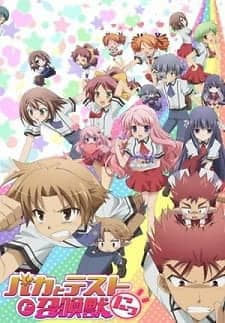 Sinopsis Baka to Test to Shoukanjuu Ni!
Goofball Yoshii masih memimpin krunya dalam pertempuran Avatar melawan siswa cerdas di sekolah, tetapi gadis-gadis di Kelas F telah tumbuh jauh lebih sedikit peduli dengan meningkatkan status mereka di kampus. Alih-alih naik di dunia, gadis-gadis lebih tertarik untuk lebih dekat dengan para pria di geng! Tentu saja, beberapa anak laki-laki sama sekali tidak menyadari niat romantis dari teman-teman perempuan mereka. Itu yang diharapkan dalam kelompok orang bodoh dan orang jahat. Meskipun demikian, femmes Kelas F tidak menyerah dalam waktu dekat. Karena ketika cinta sedang dipertaruhkan, bahkan orang-orang yang kurang berprestasi dapat menemukan motivasi – bahkan jika mereka tidak dapat mengejanya!
Kimochi
Type:

TV

Status:

Completed

Episodes: 13
Release Date: Jul 8, 2011
Premiered: Summer 2011
Studios: Silver Link.
Producers: Cospa, Enterbrain, Hakuhodo DY Media Partners, Kadokawa Contents Gate, Lantis, Media Factory, PRA, T.O Entertainment, TV Tokyo Music
Licensors: Funimation
Duration: 24 min. per ep.
Rating: PG-13 - Teens 13 or older
Country: Jepang
Genre: Comedy, Romance, School, Super Power
Published : 2020-01-18T13:23:56+07:00
Episode Baka to Test to Shoukanjuu Ni!